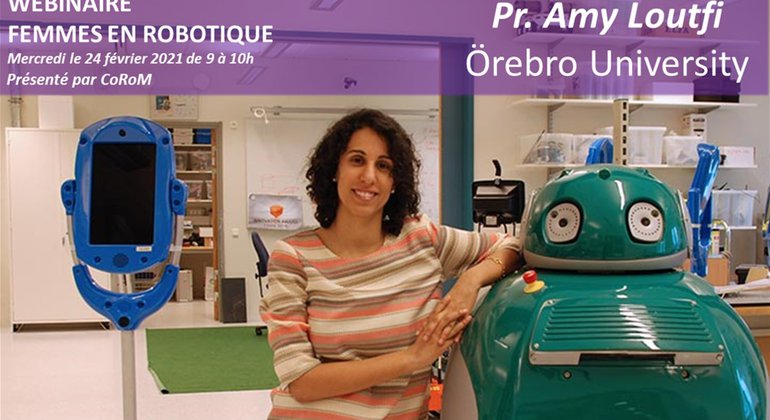 Webinar with Pr. Amy Loutfi - Örebro University - Sweden
March 12, 2021, 3:13 p.m.
2230
Welcome to the first of many Women in Robotic or «Robotique au féminin» events, featuring professor Amy Loutfi from the department of science and technology form Örebro University in Sweden. These events will feature women who have chosen a career in robotics. Why? Well - Simply because women and non-binary people are well underrepresented in this field. In the field of robotics but also in the field of engineering at large. According to Engineers Canada, 17% of engineers are women. The goal is to reach a 30% representation in 2030 because it is thought that at 30%, this will be sufficient to gain momentum and have a sustainable cultural change.
But diversity in engineering and robotics is not only a question of statistics. It has a profound impact on the way, we as a society, as scientists and as engineers approach problems and find impactful solutions. With the rise of smarter robots and the importance of human-machine collaboration, let's make sure that the humans behind the machines are all well represented and divers.
Amy Loutfi is a Professor at the AASS Research Center, Department of Science and Technology, Örebro University, Sweden.
Amy was born in New Brunswick, Canada and got her Bsc. in Electrical Engineering in 1997. She then came to Sweden and Örebro University as an undergrad exchange student. After finishing her studies, she went home to Canada for a while. In 2001, however, she chose to come back to Örebro as a Ph.d student.
Amy received her Ph.D in Computer Science in Örebro in 2006 in the field of robotic olfaction. From 2008-2010 she was the program coordinator for the International Masters in Robotics and Intelligent Systems at Örebro University. In 2011 she was the director of studies for all Computer Engineering programs Örebro University. In 2014 she became the deputy head of the Department of Science and Technology. Amy has also held the position of unit manager for The Center for Applied Autonomous Sensor Systems (AASS)
Today Amy is the Pro-Vice-Chancellor for AI at Örebro University.

In the first half of the webinar, Amy will present her professional background and journey as a woman in robotics. For the second half of the webinar, Amy will talk about her many projects in robotic telepresence and human-machine collaboration like the GIRAFF project. She coordinated two EU projects to completion in 2014. She will also discuss her findings in machine olfaction. A Q&A session will take place at the end.
You can also listen in podcast format: https://anchor.fm/corom/episodes/Radio-Robot---mission-5---Pr--Amy-Loutfi-esdedf